Announcements 12th August 2022:
Welcome to Little Adventurers
At Little Adventurers we believe that childhood should be just that- an exciting adventure, a time for children to discover, explore and investigate the world around them.
When looking for a nursery you will want to be sure that your child will be loved, supported and given the best possible start in life. This is at the heart of our ethos at Little Adventurers Nursery.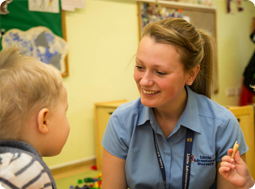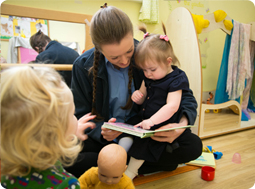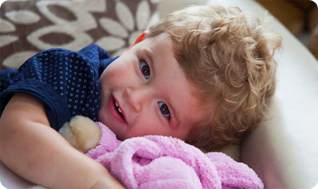 Our nursery aims to:-
Support a rich childhood both indoors and outdoors

Respond to the individual needs of every child

Build relationships that are loving and supportive
We will do this through jumping in puddles, making clay hedgehogs, growing tomatoes, building the 3 bears' house and so much more! As they play children have time and space to become creative and independent people and find their place in our fabulous world, learning the essentials they need to become life-long learners.
Why not call 01708 227657 and come for a visit to see us in action.
Ginny Andreas (Manager)
"Early childhood is the most crucial time in the life of an individual and thereby in the life of society" Bruce Perry (neuroscientist)
"There is no one thing when choosing a nursery, it has to feel right.  Friendly staff, safe environment, variety of activities and well-being of the children being paramount is what I want from a nursery and Little Adventurers has it all.  Their biggest strength is their staff, they make the nursery.  Everyone I've dealt with has been friendly, helpful and professional and I trust them all to look after my children."

"G is very happy and settled within the nursery. He is excited each morning to go to nursery to play with his friends and key persons. Seeing how G has developed over the last year has reflected how well the staff interact with the children.  Seeing G happy when collecting him at the end of the day shows we made a great decision sending G to Little Adventurers. All the staff are very friendly and make us feel safe in leaving our son in their capable hands. We look forward to seeing how the nursery grows over the next few years."

"A brilliant nursery/pre-school which has prepared H for school but also retained his interest and learning where is September born (so extra year).  So friendly, kind with a real sense of family involving all family members."

"Little Adventurers is a family environment where children, parents and staff are comfortable and work together to develop children for their future.  Communication is excellent within the nursery and nothing is too much to ask.  Most importantly children seem happy each day and enjoy being in nursery."

"We love the community days & parents forums. The food at nursery is fantastic.  Keep doing what you are doing."

"A great nursery under the excellent management of Ginny."

"Little Adventurers is by far the best childcare facility that we have used by far.  The children are looked after so well (they are so happy here) in a homely place by wonderful staff."

"I cannot speak more highly of Little Adventurers wonderful, caring & professional staff.  Great facilities, great team and the staff are lovely."

"We have so many positive things that we could say about the nursery.  We love the fact that it is so family orientated.  Our little boy loves coming to nursery.  We honestly believe this is because the nursery provides such a warm, friendly & caring environment.  Ginny puts 100% into each one of those children in the nursery and you can clearly see how much the children love her.  When you have a fantastic manager, this means you have a fantastic, committed team.  Every member of staff from nursery nurses to  Tina (the cook) & the cleaners put 100% into their roles at nursery.  The nursery also goes that extra mile by having a variety of extra curricular activities e.g. parents forum, first aid courses, family days out, parents meals out.  Due to this we have been fortunate to make friends with some of the nursery parents."

"My son loves Angela like she is his 2nd mummy! The bond they have is so great to see and I love the way she knows how to get down to his level to explains things to him and the patience she shows him."

"My son was one of the 1st children at Little Adventurers and he absolutely loves it there! "

"Little Adventurers deserves an award for being the most friendly, caring, secure and creative environment that I could wish for for my children. "

"Excellent nursery with a real focus on every individual child's needs and good engagement with parents through forums etc."

"Outstanding nursery, staff are fantastic & hard working. Seeing the children have fun & learning through play is wonderful to see. It's lovely being apart of it."

"Brilliant nursery and amazing staff"

"The team at little adventurers are amazing and our son loves his time there, nothing is too much trouble and they really value the education and wellbeing of all the children in their care."

"Little Adventurers is a fantastic nursery, my son has an amazing time and has come on leaps and bounds since attending the nursery."